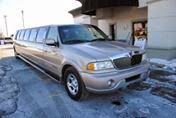 Each week during the high school sports season, Eastern Maine Sports will announce a female and male athlete of the week. You can send your nominations during the week to Marc at easternmainesports@gmail.com. When you send your nominations include the athlete, name of the school, stats for the week of the nomination. Here is a full list of the 198 past athlete of the week winners.
This week, we had four Rowell's Garage male athlete of the week nominations. Zachary White from Dexter High school edged out Trey Wood from Brewer high school in the voting for the Down East Limousine male athlete of the week. White scored four touchdowns, including a 65 yard punt return in the fourth quarter, that he followed with a two point play that tied a game the Tigers ended up winning 34-28 over Mount View.
Down East Limousine male athlete of the week
Zachary White- Dexter- football- had 124 yards on four catches, including three touchdowns and returned a punt for another touchdown, plus converted a two point play late in a 34-28 win over Mount View. White joins Jordyn Bell (9-22-11),David McKusick (2-11-12), Peyton Watson (3) (9-21-14), Trevor Fogarty (2) (10-20-13),Libby Kain  (2) (4-21-13), Katie Batron (10-5-14),Brayden Miller (9-20-15), Megan Peach (12-26-15), and Hannah Dorman (9-3-16) as student/athletes from Dexter high school to earn athlete of the week honors.
Runner up
Trey Wood- Brewer- football- scored five touchdowns in 34-28 win over Messalonskee.
Other nominations
Trent Lick- Orono- soccer- recorded a hat trick in 9-1 win over Dexter.
Dillion Drew- PCHS – soccer- scored two goals in 6-0 win over PVHS.