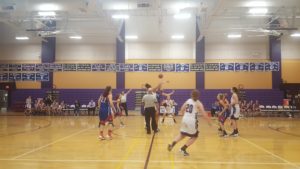 The Hampden Broncos tip it up against the Messalonskee Eagles at Hampden Academy on Friday night. Photo by Chris Lessner.
HAMPDEN- Freshman guard Gabrielle Wener knocked down five three-pointers on her way to a game-high 21 points, as the Messalonskee Eagles stayed unbeaten with a 56-41 Class A North girls basketball win at Hampden Academy Friday night.
Messalonskee (11-0) led most of the way in this contest. A closely contested first half saw the Eagles lead by as many as five, taking a 10-5 lead after one quarter. Hampden took their only lead on a Bailey Donovan three point play at 20-19 with 1:39 left in the first half. Wener would knock down a pair of three-pointers in the next 45 seconds, and Messalonskee took a 25-20 lead at halftime.
Messalonskee extended the lead to 32-22 in the third quarter, before a 7-0 Broncos run cut it to 32-29. The Eagles took a 38-31 lead into the final quarter, helped by Sophia Holmes who scored nine of Messalonskees 13 points in the period.
After Hampden cut the lead to three again at 38-35 to start the fourth, Messalonskee would extend the lead to 10 again with a 7-0 run to make it 45-35. The Broncos attempted one more run to cut it to 45-39, but the Eagles ended the game on a 11-2 run to put it away.
Along with her game-high in points, Wener also had six rebounds and three steals. Holmes finished with 16 points, five rebounds, and two steals. McKenna Brodeur also had eight points, three steals, and two assists. Messalonskee returns to action Tuesday when they travel to Skowhegan to battle the Indians at 7 p.m.
Hampden Academy (8-4), was led by the sophomore center Donovan who had 18 points, 18 rebounds, and two blocked shots. Sophia Narofsky contributed eight points, and five rebounds. Marissa Gilpin also put in seven points. Hampden won the rebounding battle 30-20, but committed 18 turnovers compared to 11 for Messalonskee. Hampden Academy returns to action Tuesday as well, when they host Mt Blue at 5 p.m.
MES  (11-0)   10  15  13  18- 56
HAM (8-4)      5   15  11  10- 41
Messalonskee (56)
Wener 8-0-21, Holmes 7-2-16, Brodeur 4-0-8, Turner 2-1-6, Genness 1-0-2, Wilson 1-0-2, Dexter 0-1-1, Parent, Seekins
3 point goals: Wener 5, Turner
Free throws: 4-12
Hampden Academy (41)
Donovan 8-2-18, Narofsky 2-4-8, Gilpin 3-0-7, Smith 2-0-5, Scott 1-1-3, Murphy, Soucy, Burke, Wildman
3 point goals: Smith, Gilpin
Free throws: 7-9