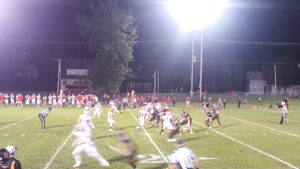 Brewer High quarterback Cody Wood takes the snap during second quarter action on Friday, September 29 against Cony at Doyle Field. Photo by Chris Lessner.
BREWER- Senior quarterback Anthony Sousa scored on a sneak with 30 seconds remaining Friday night to lead the visiting Cony Rams to a 20-14 victory over the Brewer Witches in a Class B North matchup at Doyle Field.
Cony (3-2), ended a scoreless first half when Sousa found wide receiver Reed Hopkins on a 16 yard touchdown with just 57 seconds left in the second quarter, and after the failed extra point the Rams led 6-0 at the break.
Brewer (2-3), started the second half on a 13 play 80 yard drive that took 9:20 off the clock, and culminated on a one yard touchdown run by Andrew Kiley, who also converted the extra point to give the Witches a 7-6 lead.
Brewer struck again on their next possession late in the third, when quarterback Cody Wood found tight end Jacob McCluskey for a 47 yard score to up the lead to 14-6 after three quarters.
Cony responded with eight minutes left in the game, going 60 yards on five plays in just 1:27, capped off by a five yard touchdown run by Logan Leadbetter. Sousa found Hopkins for the two point conversion to tie the game at 14-14.
The Rams began their game winning drive from their own 45 with just 1:56 remaining, that included a big 13 yard run by Sousa to get down near the Brewer end zone. Sousa plunged in over the pile of Witches defenders to give the Rams their third victory of the season. A last ditch effort by Wood was for not, as he was intercepted deep inside his own territory with 11 seconds left.
Sousa finished 15-22 passing, 212 yards, one touchdown, three interceptions. He also added eight carries for 31 yards and the game winning score. Leadbetter had 63 yards on 10 carries and one touchdown. Jordan Roddy had four catches for 49 yards, and added 46 yards on five carries. Matthew Wozniak had four catches for 89 yards, and added an interception on defense.
Wood went 12-20 passing for Brewer, 135 yards, one touchdown, and two interceptions. Bryant Kiley had 21 carries for 50 yards, while brother Andrew added 41 yards on 10 carries and a score. McCluskey had six receptions for 88 yards and a touchdown, while Wood and Brandon Glidden each had an interception on defense.
Both teams return to action next Friday night at 7 p.m. Brewer travels to Messalonskee, while Cony hosts Hampden Academy.
CON (3-2)       0     6     0    14- 20
BWR (2-3)      0     0    14     0- 14
Total yards- Cony 352  Brewer 252
Turnovers- Cony 3  Brewer 2
Time of game- 2:15