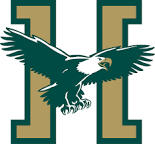 The Husson Eagles basketball teams continued North Atlantic Conference play Saturday by hosting the Maine Maritime Academy Mariners at Newman Gym in Bangor.
In the womens game, Husson was able to defeat MMA 58-50 in a game that featured 11 ties and six lead changes.
Kenzie Worcester had 21 points, four rebounds, three assists, and three steals to lead the Eagles to the win. Emma Alley added 10 points. MMA turned the ball over 23 times and only shot 23 percent from the floor. Meagan McLain led the Mariners with 15 points. Alayne Felix added 10 points and 13 rebounds, including her 1,000th career point. Husson improves to 2-2, 2-0 NAC, while MMA slips to 3-2, 1-1. Husson returns to action next Friday at Green Mountain College at 5:30 p.m.
On the mens side, Husson built a 19 point halftime lead and pulled away in the second half to earn the 90-57 win over the Mariners.
The Eagles put four players in double figures. Leading the way was Raheem Anderson with 21 points, seven rebounds, and five assists. Kyanti Blyden came off the bench to score 13 points, while Bruce St. Peter and Justin Martin had 10 points a piece. Martin also added 12 rebounds. Adam Richardson had 15 points and eight rebounds for MMA. Husson stays unbeaten at 4-0 and 2-0 NAC, MMA falls to 0-5, 0-2. Husson next plays Tuesday night at Bates. Tipoff scheduled for 8 p.m.