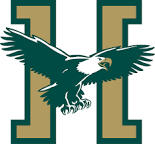 The Husson Eagles basketball teams swept a North Atlantic Conference doubleheader Saturday at Castine over Maine Maritime Academy.
On the womens side, Kenzie Worcester scored a career high 36 points to lead Husson over MMA 69-61. Worcesters point total was the fourth highest in a game in program history. Worcester also hit 1,000 points for her career. Hitting that point plateau in only 66 games is the fastest ever in school history. Worcester added six rebounds. Sami Ireland chipped in 13 points and eight rebounds, as the Eagles improve to 5-5, 4-1 NAC.
Melinda Ogden had 16 points, and Alayne Felix had 16 points and 10 rebounds for MMA who goes to 5-5, 2-3.
On the mens side, Husson built a 54-22 halftime lead and stayed unbeaten in conference play with a 93-56 win over MMA.
Raheem Anderson had 24 points, five rebounds, four steals, and a block for the Eagles. DJ Bussey came off the bench to score 17 points. Justin Martin added 14 points and nine rebounds, while Kyanti Blyden had 12 points and five rebounds. Husson is now 8-2, 5-0 NAC.
Riley Jorgensen had 14 points and five rebounds to lead the Mariners, while Nick Depatsy had 10 points and five rebounds. MMA falls to 1-11, 0-5 NAC.
Both teams will be at UMaine-Farmington Tuesday, with the womens game slated for 5:30 p.m., and the men at 7:30.