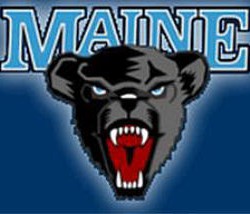 The University of Maine Black Bear womens basketball team fought off a sluggish start, and turned it into a strong second half to defeat UMBC 64-50 Wednesday at the RAC in Baltimore, Maryland in America East action.
UMBC (1-15, 0-3 America East), held a two point lead after one quarter, and also their largest lead at four 15-11 early in the second. From there, it was all Maine. The Bears went on a 8-0 run and held a 31-23 halftime advantage. Maine went on an 11-0 run in the third quarter, outscoring the hosts 22-9 in the period, and without a field goal in over six minutes to make it 53-32.
Maine led by as many as 22 in improving to 9-7 overall and 2-1 in America East. Blanca Millan led the way with 19 points, 11 rebounds, three steals and two blocks. Julie Brosseau had 18 points, six rebounds, and four assists. Tanesha Sutton chipped in 11 points, seven rebounds, and three assists. For Millan, it was the 15th straight game she has scored in double figures. Lucrezia Costa led UMBC with 12 points and five rebounds. All conference player Laura Costaldo was held to three points on the day.
Maine travels to Albany to meet the Great Danes Saturday at 2 p.m.