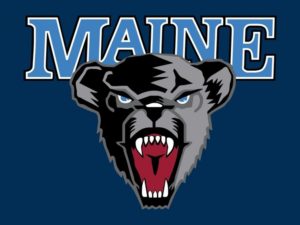 Blanca Millan and Julie Brosseau both had 19 points, and Tanesha Sutton had a late basket to lead the Maine Black Bears to a 59-56 America East womens basketball win over the Hartford Hawks Monday night at the Cross Insurance Center in Bangor.
Maine (16-8, 9-2 America East), started out red hot and took a 16-4 lead midway through the first quarter on the strength of a 4-5 start from three point range. Hartford though had the answer. The Hawks ran off the last six points of the first, and then scored the first 13 of the second to take a 23-16 lead. Millan nailed a three pointer with 3:32 left in first half for the Bears first field goal of the second. Hartford continued to lead 28-25 at halftime.
Maine would take back the lead on a Brosseau three pointer in the third at 37-34. The Black Bears scored the last 14 points of the third to take a 45-34 into the final stanza. Maine led by as many as 12 in the fourth, but Hartford was able to come all the way back and grab a 56-55 lead two minutes to play. Maine down one, committed a turnover with 1:05 left, but Hartford was unable to cash in on their offensive possession at the other end. Sutton then drove the lane for a layup to give Maine a 57-56 lead with 23 seconds remaining. Millan blocked a Jade Young three point attempt with nine seconds left, Sutton scooped up the loose ball and was fouled. On the ensuing inbounds, Maine freshman guard Dor Saar was fouled and knocked down two from the line with 2.9 seconds left. Young attempted another three with less than a second left to tie it, but the shot was off and Maine captured their seventh straight win.
Millan added eight rebounds and six steals, while Brosseau added five rebounds. Saar finished with 11 points, and Sutton had six points, five rebounds, and three assists. Maine committed an uncharacteristic 28 turnovers in the game.
Darby Lee lead Hartford (14-10, 6-5 AE) with a game high 24 points, adding nine rebounds, and three steals. Young added nine points and six assists, while Alexia Douglas also added nine points and grabbed six rebounds.
Next up Maine will face rival UNH on Thursday night at the Cross Insurance Center. Tipoff is scheduled for 7 p.m.
HAR    10  18    6   22- 56
UME   16    9   20  14- 59
Field goal %- Hartford 40.4  Maine 44.7
Rebounds- Hartford 28 Maine 34
Attendance- 1,208