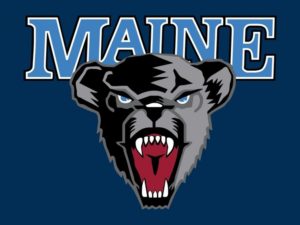 BANGOR, Me- Julie Brosseau led four players in double figures Thursday night, as the Maine Black Bears dismantled their rivals the University of New Hampsire 77-46 in an America East womens basketball game played at the Cross Insurance Center.
Maine (17-8, 10-2 America East) led from start to finish, and immediately jumped out on the visitors for an early 9-0 lead. "After that, our momentum kept going, looked to make some great assists and attack the basket", said Maine guard Tanesha Sutton. The Bears held an 18-8 advantage after the first quarter.
Maine took their biggest lead to that point in the second quarter, finishing off an 8-0 run to go up 24-8. UNH never got closer than 14 in the second quarter and Maine led 37-21 at the break.
UNH got back within 13 in the third quarter on a Carly Pogue layup, but a Brosseau three pointer and a Sutton bucket pushed the lead back to 18. "When I have a chance to shoot the ball, I just shoot it, and it went well tonight", said Brosseau who made 5-9 from the arc in the game. The Bears turned it on in the fourth quarter outscoring the Cats 21-10 in the period and leading by as many as 31, which was the final margin of victory. The Black Bears have now won eight games in a row, and coupled the win with an Albany loss to Vermont, grabbed first place in America East by a full game over the Great Danes.
UNH (15-10, 6-6) was led by Olivia Healy who had 15 points and seven rebounds. Pogue added 10 points and five rebounds, as the Wildcats have now lost three straight games to the Bears including both this season.
Brosseau added five assists to go with her game high in points. Millan finished with 16 points, three rebounds, two assists, and two steals. Fanny Wadling had 15 points, six rebounds, two assists, and four blocks. Sutton recorded a double double with 12 points, 11 rebounds, and also added four assists. Maine shot 55 percent from the field, compared to just 32 percent for visiting UNH. The Bears only committed seven turnovers, and had 25 assists on 42 baskets. Maine head coach Amy Vachon said, "I thought it was really a complete game by our team, both offensively and defensively. The girls really followed the game plan we put in yesterday, and executed it to a T defensively especially in that first half. Then they really moved the ball well on offense, thought they played really well. I thought it was a really complete game for us".
Maine looks to make it nine straight when they head to Long Island on Sunday to battle the Stony Brook Seawolves at 2 p.m.