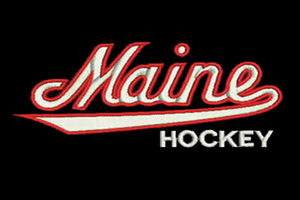 Scott Conway scored a nifty backhanded  powerplay goal through traffic late in overtime Friday night, as the Providence College Friars topped the Maine Black Bears 3-2 at Schneider Arena in Providence, R.I. in Hockey East mens hockey action in front of a sellout crowd of 3,033.
The win for PC is the 12th consecutive over Maine, and the Friars are now 15-0-1 in last 16 games with the Black Bears.
Vimal Sukumaran had a goal and assisted on a Jakob Bryson goal in the first to give the home team a 2-1 lead. Chase Pearson had the Maine goal.
Maine evened it up late in the second period when Ryan Smith scored at 18:03 to make it 2-2.
Both teams had chances in the third period as Maine had a five minute powerplay on a major penalty call on PC, but the Bears couldn't convert. PC had a powerplay immediately after the Maine chance, and after another penalty call on the Bears, the Friars also had a five on three advantage for almost 30 seconds, and couldn't convert either.
In overtime, a goalie interference call on the Bears Nolan Vesey with 1:59 left had the Friars with the advantage for the rest of the extra session. Conways winner came with just 49 seconds left in the overtime.
Jeremy Swayman made 39 saves in the loss in the Bears net, while Hayden Hawkey made 31 in the Friars win. Maine was 0-3 on the powerplay, Providence was 1-5, converting the overtime game winner with the extra man. PC is now 18-9-4, 11-6-4 in Hockey East.
Maine (15-11-4, 9-8-3) next plays Wednesday night in Durham, NH as they battle the UNH Wildcats at the Whittemore Center at 7 p.m.