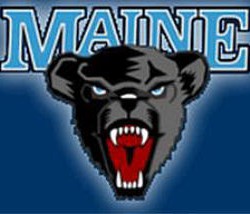 After the Maine mens hockey team lost in the last minute of overtime in a lone weekend game Friday night at Providence, Saturday it was the #9 Maine womens ice hockey team opening up a two game series at Schneider Arena against the Friars.
This one would go overtime as well, but would end in a 1-1 tie.
Both goals were scored in the opening period as Catherine Tufts scored for Maine at 14:50, but the Friars responded 2:16 later on a marker by Ariane Julian.
Both teams had chances, but both goalies stood tall and Maine came out still one point ahead of Providence for second place in the Hockey East standings. Both teams were 0-5 on the powerplay, including a chance for Providence in overtime. Carly Jackson made 31 saves in the Maine net, while Madison Myers made 30 for Providence. Maine is now 17-9-5, 11-6-4 in Hockey East. PC is 14-11-7, 10-7-5.
The teams conclude the two game series Sunday afternoon at 2 p.m.