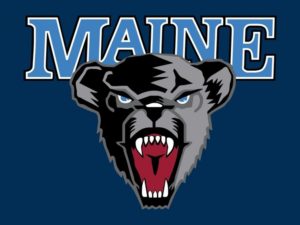 The Maine womens basketball team tried to extend their eight game winning streak at Stony Brook, while the #9 womens ice hockey tried to stay in second place in the conference in the second game of a weekend series at Providence Sunday afternoon.
At Island Federal Credit Union at Stony Brook, New York, the Stony Brook Seawolves got 23 points from Shania Johnson and 22 points from Cheyenne Clark while shooting 53 percent from the floor, to defeat the Maine Black Bears 76-68 in America East womens basketball action.
Stony Brook started fast taking a 17-7 first quarter lead, before Maine answered at the end of the first and beginning of the second with an 11-2 run to cut the lead to 19-18. The Seawolves ran off 13 straight to take their largest first half lead 32-18, and held a 33-26 advantage at the half.
The home Seawolves began the third quarter on a 9-2 surge to increase the lead back to 14, and led by as many as 19 in the third quarter. Maine got within seven several times in the final quarter, but got no closer as the eight game winning streak came to an end.
Maine 17-9, 10-3 America East was led by Blanca Millan with 21 points. Freshman Dor Saar added 14 points, four assists, and four steals. Tanesha Sutton added 13 points and six rebounds. The Bears shot 43 percent for the game, but lost the turnover battle 17-11, as the Seawolves outscored Maine 19-7 in points off turnovers.
Johnson added four rebounds and nine assists to her game high in points for 15-11, 7-6 Stony Brook. Clark added seven rebounds to her 22 points.
Maine, now tied for first in America East with Albany, will return home to host UMass-Lowell Wednesday night at 7 p.m.
At Schneider Arena in Providence, Maureen Murphy scored a third period goal to tie it, and then scored 2:57 into overtime to lift Providence to a 2-1 win over #9 Maine in Hockey East womens ice hockey.
After a scoreless tie after two periods, Catherine Tufts scored her second goal of the weekend at 7:03 of the third to make it 1-0 Maine. Murphy tied it at 13:05, as Providence took over second place in Hockey East by one point over Maine.
Carly Jackson made 26 saves for Maine, who is now 17-10-5, 11-7-4 in Hockey East. Madison Myers made 29 saves for Providence. PC improves to 15-11-7, 11-7-5.
Maine will host the top team in Hockey East and #3 team in the country, Boston College, at the Alfond Friday and Saturday in the final two games of the regular season. Both games scheduled for 2 p.m.