THORNDIKE-  The Foxcroft Academy Wrestling team has been a force in the Eastern/Northern Region for the last 20 years.  Now they have won three straight Northern Regional titles and six of the last eight years.  Coming into this season that goal of winning a Regional Title seemed like a long shot.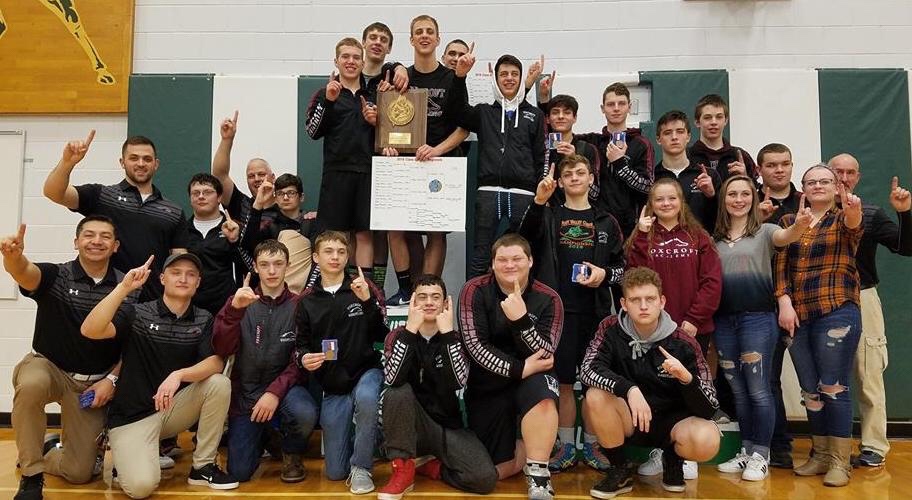 Foxcroft Academy Wrestling after winning the regional title
"We had a young team coming into the season" Foxcroft coach Luis Ayala said, " But the maturity and improvement that they have shown through this long wrestling season has been amazing."
Early in the season Foxcroft lost to some PVC teams.  They lost to Bucksport at the Dexter Duals and to Mattanawcook Academy at the Howland Tournament. FA's schedule was one way that helped prepare the young Ponies.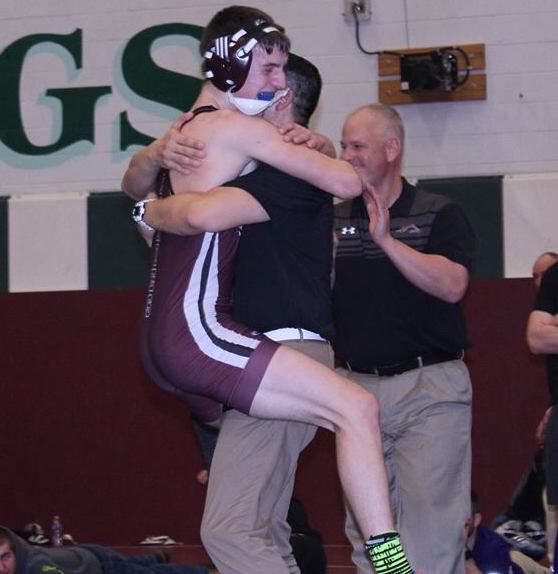 Jacob Diamond celebrating after his victory with FA's Coach Ayala.
"These early losses motivated us to wok harder at practice and it pushed us as coaches to get our team mentally ready for the road ahead,"Ayala said. "We have a tough schedule in the first half of our season.  We go to some tough wrestling tournaments and that type of competition prepares us for the end of the year. Another thing that has helped us has been how the team has bonded throughout the year.  We are Family."
Going into Regionals, the race for the title was predicted to be a close race because of the large amount of teams coming from the PVC and KVAC, a total of 24 teams were going to compete.  The Regional B North had the largest amount of wrestlers competing compared to all regional competitions in Class B and A over the weekend
Ayala said, "we were completely ecstatic about our win with a commanding lead."
That type of improvement was on display at 106, 138, 145, 152, and 195. At 106, Freshman, Austin Jackson, surpassed his seed to qualify for states.  At 138, Sophomore, Jacob Ireland, a JV wrestler for most of the year pulled some upsets to also qualify for States.  At 152, Freshman, AJ Atkinson, came in 3rd.  "AJ has just shown some great toughness to compete and to be able to succeed at a very competitive weight class" Ayala said.  At 195, Junior, Josh Whittemore, started the season weighing at 215, but he worked hard to dropped the weight to give the Ponies a wrestler @ 195, and he qualified to States.  The major surprise for the Ponies was @145, Junior, Jacob Diamond.  He won his first high school tournament on Saturday. Ayala said, He (Diamond) has been close before, but for him to step up at Regionals and win was just amazing." FA ended up with five in the finals, three champions and 11 wrestlers qualified for the State Tournament.
Jacob Diamond at the Podium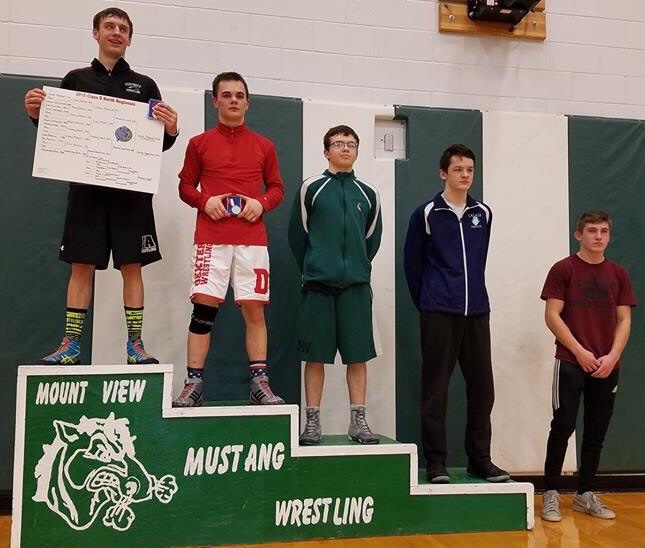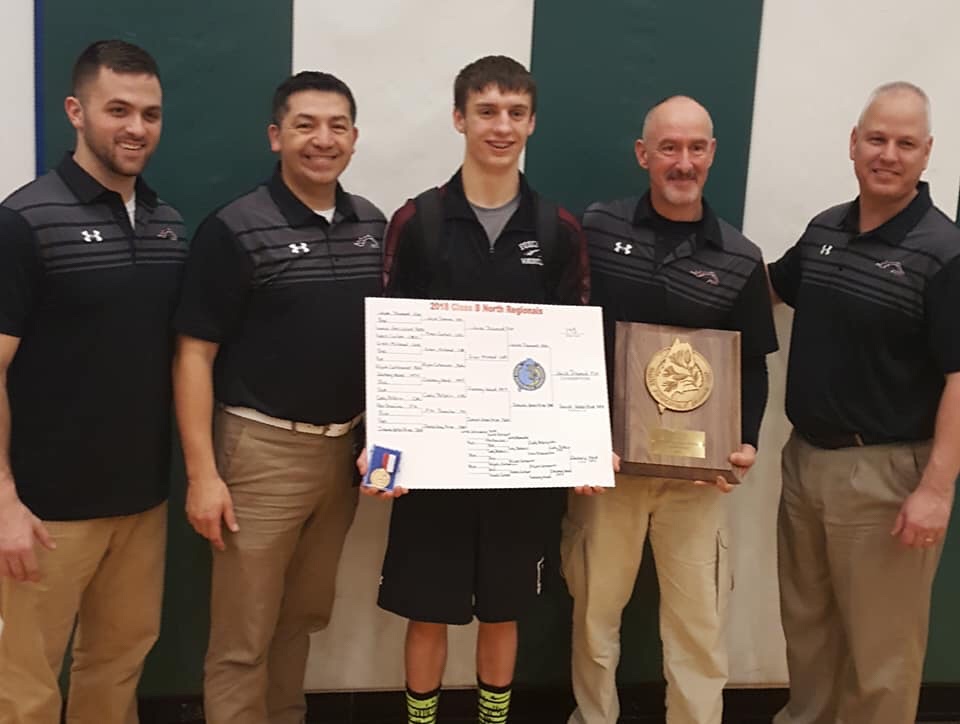 Jacob Diamond with the FA Coaches ( Lee Gustin, Luis Ayala, Terry Whittemore, and Ryan Reardon)
Foxcrot Academy results from Regionals
106- Austin Jackson- 4th
113- Rico Ayala- 2nd
120- Brandon Weston- 4th
126- Grady Reardon- 3rd
132- RJ Nelson- 1st
138- Jacob Ireland- 4th
145- Jacob Diamond- 1st
152- AJ Atkions- 3rd
160- Dustin Simmons- 2nd
170- Elijah Ames- 1st
195- Josh Whittemore- 4th